| | | |
| --- | --- | --- |
| | | Below are movie-related books written by or recommended by our staff writers. Please email us at if you would like to suggest a book for us to review. |

VideoHound's Independent Film Guide (2nd Edition)
For those who love independent movies, "VideoHound's Independent Film Guide" is an indispensable companion. This second edition, brimming with more than 1,000 reviews, including 200 new entries, points out hundreds of neglected and worthy gems that jaded movie viewers will want to seek out. More than 125 photos and 60 illuminating sidebars support the movie profiles. Each entry includes a no-holds-barred review by movie commentator Monica Sullivan, full credit information, and other pertinent details.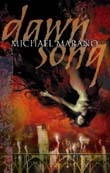 Dawn Song
For all you horror fans, a chilling novel by MMI's resident headbanger movie reviewer (cover Art by Cliff Nielsen).
"The falling snow, dropping from the darkened sky, reminded her ofthe steady rain of souls upon the plains of her homeland. Although, unlike the souls, the snow did not scream." When I read those lines (from Michael Marano's Dawn Song), I got up, turned on all the lights and checked the locks.
William Peter Blatty
(Author of THE EXORCIST and LEGION)

Maya Deren and the American Avant-garde
This volume grew out of a conference held in San Francisco in 1996: Maya Deren: Radical Aspiration. The title of this anthology sheds light on Deren's placement within the post-war US avant-garde film tradition. It is a collection of a multiplicity of methodologies and concerns which squelch the myths and legends concerning this creative filmmaker. The collection of writing will help the reader go beyond Meshes of the Afternoon into the magnificent world of Deren's theories and creations.
---
Recommended By The MMI Staff
| | | |
| --- | --- | --- |
| Eliot Ness: The Real Story | Harvey Keitel : The Art of Darkness | |
| | | |
| --- | --- | --- |
| Hurrell's Hollywood Portraits: The Chapman Collection | Hammer Films: An Exhaustive Filmography | Mystery!: A Celebration: Stalking Public Television's Greatest Sleuths |
| | | |
| --- | --- | --- |
| From Rags to Bitches: An Autobiography | Christopher Lee and Peter Cushing and Horror Cinema: A Filmography of Their 22 Collaborations | A Dream Is a Wish Your Heart Makes: My Story |
| | | |
| --- | --- | --- |
| Peter Cushing : The Gentle Man of Horror and His 91 Films | | The Brief Madcap Life of Kay Kendall |
| | | |
| --- | --- | --- |
| | Footsteps In The Fog: Alfred Hitchcock's San Francisco | |
| | | |
| --- | --- | --- |
| The Nashville Chronicles: The Making of Robert Altman's Masterpiece | | Rare Birds-An American Family |