Independent Film Guide

Find out more about VideoHound's Independent Film Guide by Monica Sullivan, producer of Movie Magazine International.
Independent Film Guide
By MMI's Monica Sullivan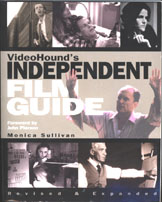 The San Francisco Chronicle reported that the first edition of "VideoHound's Independent Film Guide" was, "filled with stinging views, fascinating historical tidbits, cogent tributes, and thoughtful critical appraisals." Film Threat Weekly said it was "awesome". The Sacramento Bee recognized it as a "long overdue guide to the ever-burgeoning indie film scene." The staid New York Times weighed in with a succinct, "comprehensive and readable."

For those who love independent movies - films financed and developed outside the studio system - "VideoHound's Independent Film Guide is an indispensable companion. This second edition, brimming with more than 1,000 reviews, including 200 new entries, points out hundreds of neglected and worthy gems that jaded movie viewers will want to seek out.

More than 125 photos and 60 illuminating sidebars support the movie profiles. Each entry includes a no-holds-barred review by movie commentator Monica Sullivan, full credit information, and other pertinent details. Six fabulously detailed indexes help the reader find information quickly.

As much autobiography as it is a movie reference, "VideoHound's Independent Film Guide" is the chronicle of one reviewer's personal engagement with some of the most extraordinary films ever made. Monica Sullivan's prose is as irreverent and idiosyncratic as the films she reviews. A movie buff "since the age of three, when I could easily have spent a whole day watching 'Gentlemen Prefer Blonds,'" Sullivan began writing movie reviews for her hometown paper at the age of 12. She points out that "free spirits have been making their own movies since 1888" (see "The Missing Reel" by Christopher Rawlence). "VideoHound's Independent Film Guide" honors that tradition by taking a look at indies made during both the silent and sound eras, covering films from 32 countries.

Monica Sullivan is the founder, producer, and host of "Movie Magazine International", a syndicated public radio program that broadcasts to more than 100 stations in 33 states and features Sullivan's film commentary and interviews with film personalities. She also produces and writes for "Shoestring Radio Theater" a Golden Reel nominated, nationally syndicated weekly radio drama program. She is the author of two novels and a children's book and was a Northern California Emmy nominee for her teleplay "The Subject Doesn't Really Interest Me." Sullivan also co-produced the documentary, "Hollywood Blacklist"

Hometown: San Francisco, CA
---
Buy It!
"VideoHound's Independent Film Guide" is available in the MMI Book Store, courtesy of Amazon.com.
Buy The Book At Amazon.com